by Lizzy Silber
Bumble bee importance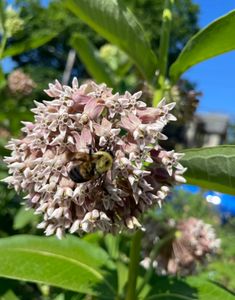 Bees are vastly important as they are pollinators for almost 80% of animal-pollinated plants. Bumble bees are the charasmatic 'flying teddy bears' of the bee world. Of the twenty different types of bumble bees recorded from Michigan, six have been given special concern status in the state of Michigan because of significant range declines over the past century (MNFI Report No. 2019-33). An example is the rusty-patched bumble bee (Bombus affinis), a species once common to southwest Michigan but one that has not been sighted in Michigan now for over 20 years. Several other resident species, including the black and gold bumble bee (B. auricomis) and the American bumble bee (B. pensylvanicus) are also declining and were recently given special concern status in the state of Michigan. Documenting sightings of the various bumble bees in our area is important for understanding longer term population trends and helping determine where conservation efforts are most needed. You can help by becoming a citizen scientist!
To help document sightings of bumble bee species in the nine counties of Southwest Michigan (Allegan, Barry, Berrien, Branch, Calhoun, Cass, Kalamazoo, St. Joseph, and Van Buren), Kalamazoo College undergraduate Niko Nickson worked with biology professor Ann Fraser to establish a citizen science project called Southwest Michigan Bee Watch (swmbees) in 2020. The project uses iNaturalist, a free application and website platform through which users from around in the world can upload photos of organisms found in nature and receive suggested identifications that are generated through image matching and artificial intelligence. For the swmbees project, any bumble bee photos you upload to iNaturalist that include a location within the nine counties of southwest Michigan will be automatically added to the project. Currently, over 550 photos from 240 observers have been submitted. Join in and help grow the database!
A new Kalamazoo-focused project
This summer, I'm adding to the larger swmbees project through my own undergraduate research project that is looking at how bumble bee diversity and abundance compares along the urban-rural development gradient in and around Kalamazoo. Knowing which bee species are most common in the city core compared to suburban and rural areas can help inform where conservation efforts for declining species should be focused. I will examine patterns within a 15-mile radius of the city center using observations contributed by citizen scientists like you. Citizen science data is extremely important to this project as it provides many boots on the ground. Not only will your contributions increase the number of observations available for researchers to analyze, but these observations will also greatly increase the number of locations from which bees are recorded, including on private land to which only you may have access. Along with citizen science efforts, I am conducting regular surveys at select community gardens and nature preserves within the target area.
Getting involved is as easy as 1-2-3!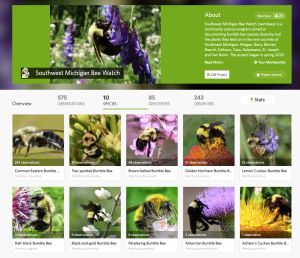 To add your bumble bee observations to the swmbees initiative, take these three easy steps: 1) Download the iNaturalist app and create your account, 2) take a photo of a bumble bee, 3) submit your observation through iNaturalist. For a guide to getting started with iNaturalist, view this tutorial video.
You can create an account by downloading the app from your mobile device's app store or by visiting the iNaturalist website – inaturalist.org. Any photos you take of bumble bees can be uploaded through the app or website. Your location information will be automatically associated with each photo you take if you set your geoprivacy to 'open' or 'obscured' in the app; alternatively, you can select your location on the map within the observation entry page. You can upload multiple photos of the same bee in a single entry but make sure to submit each different bee as a separate entry. Once you have uploaded your photos, iNaturalist can suggest names for the bee you observed and indicate whether it has been observed nearby. Depending on how confident you are with your identification, you can select a suggested species name from the list provided or leave it general (e.g. bumble bees). After you submit your observation, others (including myself) can view it and either confirm or revise your identification. Observations are labeled 'research grade' after two or more reviewers agree on an identification.
To see an overview of the types and numbers of bumble bees that have been sighted in our area, visit the swmbees project dashboard on iNaturalist. You can add the Southwest Michigan Bee Project to your iNaturalist account by clicking the 'Join' button on the dashboard page or by searching for the project under the projects button found on the bottom right of the app screen.
Photography tips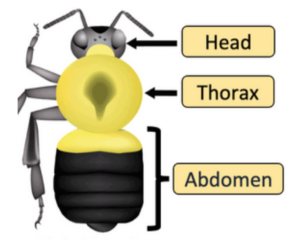 When taking photos of bumble bees for identification purposes, try to take pictures of the three body regions: head, thorax, and abdomen. The color patterns of these regions are key identifiers for determining what type of bumble bee you have seen. When taking photos, remember that you can always delete unused ones later, so take lots of each bee in the hopes that some will show the key features needed for identification. For more tips, tutorials, and resources, including an identification guide to bees in our area, visit the Southwest Michigan Bee Watch resources page. If you are curious, want to learn more, or have questions, feel free to contact me (Lizzy) at swmbees@kzoo.edu.